Preventing heat waste is a great way to reduce heating cost and lower the CO2 emissions from productions facilities in the industry. But until now, high concentrations of pollutants such as grease, soot and moisture in the excess air has made it impossible, or at least, very expensive.
The solution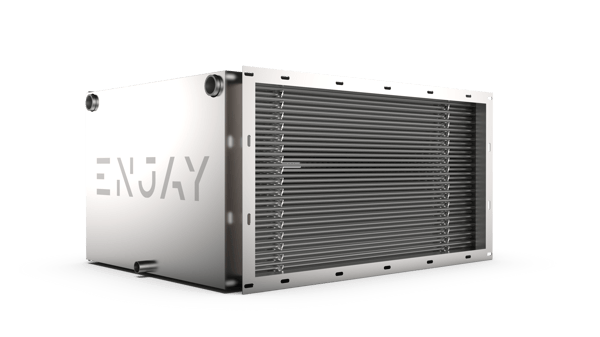 Lepido is an industrial heat exchanger, developed and built in Sweden. It can recapture excess heat from the ventilation in industrial processes. The patented set up of coils allows the particles (and the hot air) to pass through the heat exchanger without getting stuck.
Areas of usage
Lepido can be used to recover energy at:
Restaurants
Fast food restaurants
Industrial laundries
Food processing plants
Woodworking factories
Polymer production
and other manufacturing industries.
References
Lepido is currently being used by commercial kitchens and production facilities around Europe to recapture excess heat in polluted exhaust air. At Europes biggest pancake factory located in the south of Sweden and operated by Lantmännen Cerealia AB, the system will recover 1,500,000 kWh per year. Read about the project here: